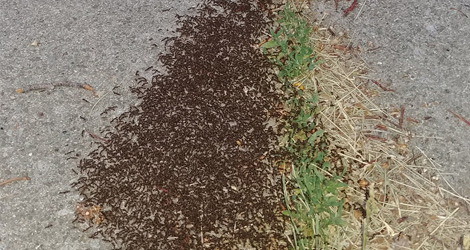 Haldimand Pest Control is ready to solve all your ant problems you may have. Our exterminators have the skills, knowledge and experience to prevent even the most severe ant infestation in a timely and efficient manner. We use the latest and most innovative solutions to combat troublesome ants. We are licensed and certified and care about protecting your residential and commercial properties from unwanted pests.
If you're done wasting time and money on ineffective home remedies or store products, give us a call.
Our Ant Control & Extermination Process
Our ant exterminators in Caledonia, Hagersville and Cayuga undergo regular training regarding the latest and most effective pest control solutions. We are well-informed about the different ant species, their behavior and habitat. When you give us a call, we will visit you at a time convenient to you to perform a thorough inspection in and around your property.
We will carefully inspect the place to determine the kind of ant invading your space and deploy the best approach for preventing the ants.
The level of infestation will also play a vital role in determining what approach we follow and how much it would cost. We will provide you with an estimate that includes no hidden charges; you will pay only what you are quoted, no more and no less.
Safe, Effective Ant Extermination Services in Caledonia, Hagersville and Cayuga

Once you have agreed to the estimate provided, we will schedule a time to come out and actually treat your property. Generally, it takes one treatment to eradicate ants from your property. However, with the higher level of infestation, we might perform several treatments. We will inform you about how we will treat the property. No harm would be cause to you, your family, pets and belongings during the process. Until you are complete satisfied with our services, we will not leave your place. With our integrated approach, our exterminators effectively eliminate the ants in a safe manner.
Reasons to Choose Haldimand Pest Control
Leading Pest Exterminators in Caledonia, Hagersville and Cayuga, Ontario
Local, Reliable & Affordable
One-Time & Ongoing Treatments
Pest Emergency Assistance
Superior Customer Service
Customized Treatment Plans