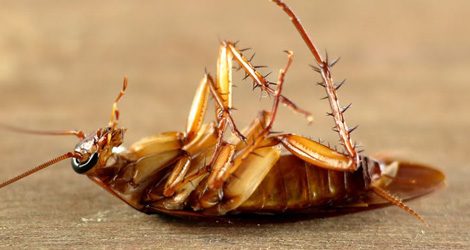 Have you noticed cockroaches on your property? Don't panic and call us. At Haldimand Pest Control, we provide safe and very effective cockroach control and extermination services in Caledonia, Hagersville and Cayuga. Cockroaches are carriers of unhealthy bacteria and can easily spread it to people (and animals). So it is important to take the appropriate measures in order to prevent them from taking up residence at your place.
You will find an array of products at the stores to kill cockroaches but these solutions are temporary and not that effective. They aren't an easy pest to control and many times the help of a professional is the only solution for relief. That's why, we are here to protect you and your home from these pesky pests. We have a team of licensed and insured exterminators who attack them at every life cycle stage to ensure complete extermination.
Residential Cockroach Control in Caledonia, Hagersville and Cayuga
Our cockroach solutions are reliable and very effective. It just takes a phone call to our pest control and removal service, and we'll visit your home to determine the level of infestation and choose the right treatment method. Our solutions are also customized to effectively resolve your issue.
Our Caledonia, Hagersville and Cayuga based exterminators are trained, qualified and certified individuals. We have been offering our pest control services for the past many years now and know what works the best. Our professionals offer affordable and the latest cockroach control solutions in the industry. Your satisfaction is our guarantee and we're always there when you need us.
Advantages of Our Cockroach Extermination Services

Pet and Family-Safe Treatments
Trained, Licensed & Certified Exterminators
Detailed Pest Inspections
Proven, Effective Pest Removal Service
Customized, Targeted Pest Solutions
Superior Customer Service
Expert Advice for Pest Control and Removal
Contact us for Professional Cockroach Extermination Service
Cockroaches are adaptable pests and can adapt to any environment they end up in. This makes it harder to control and eradicate on your own. We use powerful but safe solutions to combat these disease-carrying pests to provide lasting results.