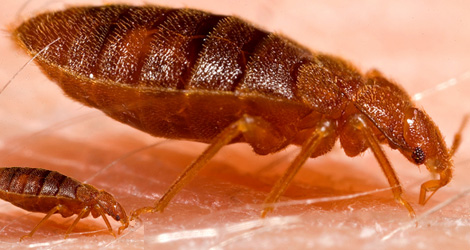 Discovered a flea in your home? You are fortunate to notice it as many times the fleas go unnoticed. And if they go unnoticed for a longer period, they can become a moderate infestation that can be extreme hard to exterminate. At Haldimand Pest Control, we are a team of fully qualified professionals to undertake all aspects of fleas for both domestic and commercial properties throughout Caledonia, Hagersville and Cayuga.
We also use the latest chemicals to prevent fleas and ensure zero future infestation.For homes that have pets it's important to get their pets treated for flea protection every year. Otherwise, they might get infested and bring these pests at home. Fleas usually travel with mammals on the move, which means you and your pet could be the carrier. They feed on the blood of any warm-blooded body, meaning both you and your pets can be their meal. Luckily, relief is just a phone call away and you can enjoy a flea-free property again in no time with our effective pest control and extermination service on your side.
What We Do
Inspection – A thorough inspection will be conducted by our team to determine the flea species and level of infestation.
Treatment – We use effective and latest flea control products to prevent the root cause of the infestation. Rest assured, our products are safe and won't cause any harm to your pets.
Follow up – Flea infestations require multifaceted treatment plans. We not only address a pet's infestation or individual flea bites, rather we look for the main source of the infestation. With our integrated pest control approach, we encompass both chemical and physical methods both inside and outside your home.
Reasons to Choose Our Local Pest Control Service
Licensed, Certified & Trained Pest Exterminators
Superior Customer Service
Quick Response
Emergency Pest Service
Detailed & Thorough Inspections
Pet Friendly and Environmentally Safe Solutions
Expert Pest Control and Removal Advice
You will always find our prices very competitive as our costs are kept affordable, however the services we offer are extremely professional. We have a friendly approach and will be more than happy to help with any questions that you may have.